Crew Members
Positions open for 2022 nursery crew members. Mid-April to mid-June.  Read all about it…
Each season we hire 3-5 part-time crew members to help in all aspects of our expanding seedling business. We seek folks who are reliable, timely, pay attention to detail, can keep a positive attitude and work easily with others and individually, have a good sense of humor, appreciate high quality work/products, work hard and are able to lift 50 pounds repeatedly and otherwise have the stamina in body and mind to turn out products we are proud to put our name on. Hours vary a bit, but usually come out to 3-4 mornings per week. 3 days to seed, pot up, label and fill orders and any additional help needed for sales out of our on-farm nursery or during or pickup week. Schedules are flexible and can be rotated among crew members.
The position consists of assisting with every aspect of the everyday operation of the nursery. You'll take part in numerous ways to seed, water, germinate, manage heat and light and market seedlings as well as get to know hundreds of varieties and their characteristics. You'll handle the tools of the trade regarding various plug trays, beneficial insect releases, pots, soil mediums, germ methods, soil amendments, irrigation systems, hand tools and more. *Masks are required at this time while working in the Nursery.
If you have a demonstrated interest in agriculture and the desire to produce plants that start healthy gardens all over Maine, then we encourage you to apply for one of our positions.
To apply, please email a blurb about yourself, your relevant experience if any, and references to Ann at farmers@onedropfarm.com.
Crew Low Down
Overview
In the early spring we will be seeding, seeding, seeding! Includes all aspects of seeding, germinating, heat management, water management, air management, transplant techniques, scouting for issues, and pest and disease management if needed.  This includes reading planting charts and close record keeping. We work from a seeding plan to reach our goals and fulfill future orders each week. Soil management, moisture and germination management take precedent.
Mid Spring is when the baby plants get to stretch their roots and be transplanted into their sales containers.  We liberate a huge number of plugs this time of year. Organizing the propagation house and nursery for future market shipments and retail sales is priority. Pest and disease scouting and beneficial insect releases help us maintain beautiful plants.
Late Spring – we sell, sell, sell!  We allow customers to come to the farm and purchase plants each weekday from 10 am to 5 pm. Marketing crew members will learn how to assess what is ready to be marketed, keep close inventory, label pre-orders and sales plants, track health of plants and suitability for market and sales, and greeting and helping our customers. You will become a wealth of information for the folks who shop with us.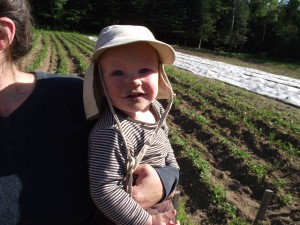 Crew Membership Nitty Gritty
Daily Morning Meeting Time: The crew convenes every morning to clarify the day's program and make alterations if needed.  Work typically begins at 9am.
Weekly Plan and Observations: At the start of each week, Ann will go over the big picture of what needs to be done, clarify work assignments and update the plan.
Meals: Come fueled with breakfast eaten and a mug of tea or coffee in hand.  We try to finish up around 1pm, so some folks bring a snack they can nosh on during work then take their larger lunch after work.
The Work Schedule
Monday – Friday: Start the morning at 9am and work until a natural stopping point is reached and what needs to get done is done, usually around 1pm.
Saturday: The nursery is open on Saturdays.  Ann usually manages sales, but occasional help, like during pickup week, is welcome. Let us know if you'd be able to pitch in an occasional Saturday.
Compensation
The crew position is from mid-April until mid-June.  Pay is $12/hr hourly. Pay increases based on experience.
Time Off: We don't have an official time off policy. Naturally, we appreciate knowing about any absences at the beginning of your stint so that we may plan to fill in. We rely on our crew and your commitment.
Sick Time: When you're sick, please let us know and please don't work if it's contagious. If health circumstances arise that cause you to miss more than 3 days of work during our short season due to illness, there will need to be some discussion as to whether the crew membership is the right situation for you at this time. You do not need to make up work for sick days.
Personnel & General Policies:
Drugs and Alcohol: Illegal drugs are not permitted on the farm property at any time. It is unacceptable to work while under the influence of alcohol or drugs.
Customer Interactions: One Drop Farm is a business and we depend on our customers for our livelihood. All crew members must present well and be professional, polite, and helpful to all people who come to the farm.  Crew members are often the first face of the farm folks see and this interaction can form the basis of their opinion of our farm.
General Demeanor: It is expected that all crew members be prompt, dressed appropriately for work, and professional in their attitude at work. We expect you to come with a good work ethic, we do not plan on having to teach this.
Integrity of a Farmer
If it's empty…fill it.
If it breaks…mend it.
If it's left open…close it.
If it fell…pick it up.
If it's left out…put it away.
If it's dry…water it.
If it's dirty…clean it.
Don't just walk on by…leave it better than you found it.
We aim to have fun and take pride in what we do.
Love and dirt,
Annie