Crew Members
Positions open for 2017 nursery crew members. Mid-April to mid-June.  Read all about it…
Each season we hire 2-3 part-time crew members to help in all aspects of our expanding seedling business. We seek folks who are reliable, timely, pay attention to detail, can keep a positive attitude and work easily with others and individually, have a good sense of humor, appreciate high quality work/products, work hard and are able to lift 50 pounds repeatedly and otherwise have the stamina in body and mind to to turn out products we are proud to put our name on. Hours vary a bit, but usually come out to 3-4 days per week.  3 days to seed, pot up, label and fill orders and 1 day, Saturday, to sell at the farmers market or out of our on-farm nursery. Weekends can be rotated among staff.
The position consists of assisting with every aspect of the everyday operation of the nursery. There are opportunities to work in the family gardens as well, if interested. We will work as a team with goal setting, check-ins and specific technical discussions based on the crew member's interest. This is full immersion into the inner workings of spring on a small-scale family farmstead. You'll lean numerous ways to seed, water, germinate, manage heat and light and market seedlings as well as hundreds of varieties and their characteristics. You'll learn the tools of the trade regarding various plug trays, beneficial insect releases, pots, soil mediums, germ methods, soil amendments, irrigation systems, hand tools and more.
If you have a demonstrated interest in agriculture and the desire to produce plants to start healthy gardens all over Maine, then we encourage you to apply for one of our positions.
To apply, please email a blurb about yourself, this QUESTIONNAIRE and three references to Ann at farmers@onedropfarm.com.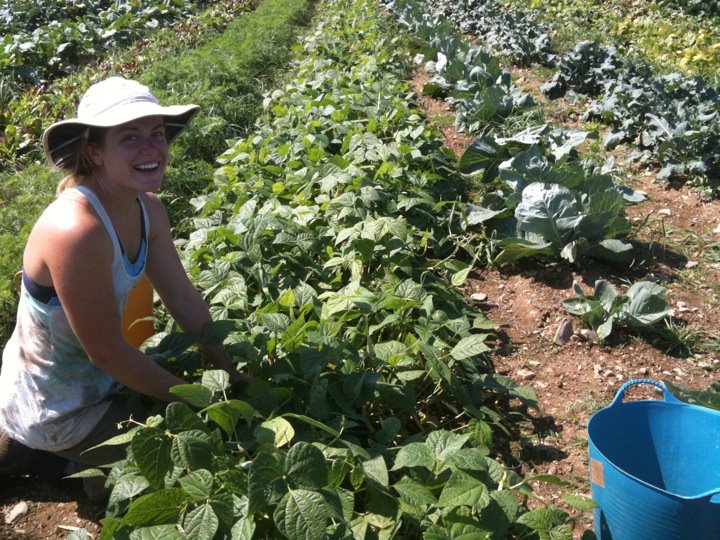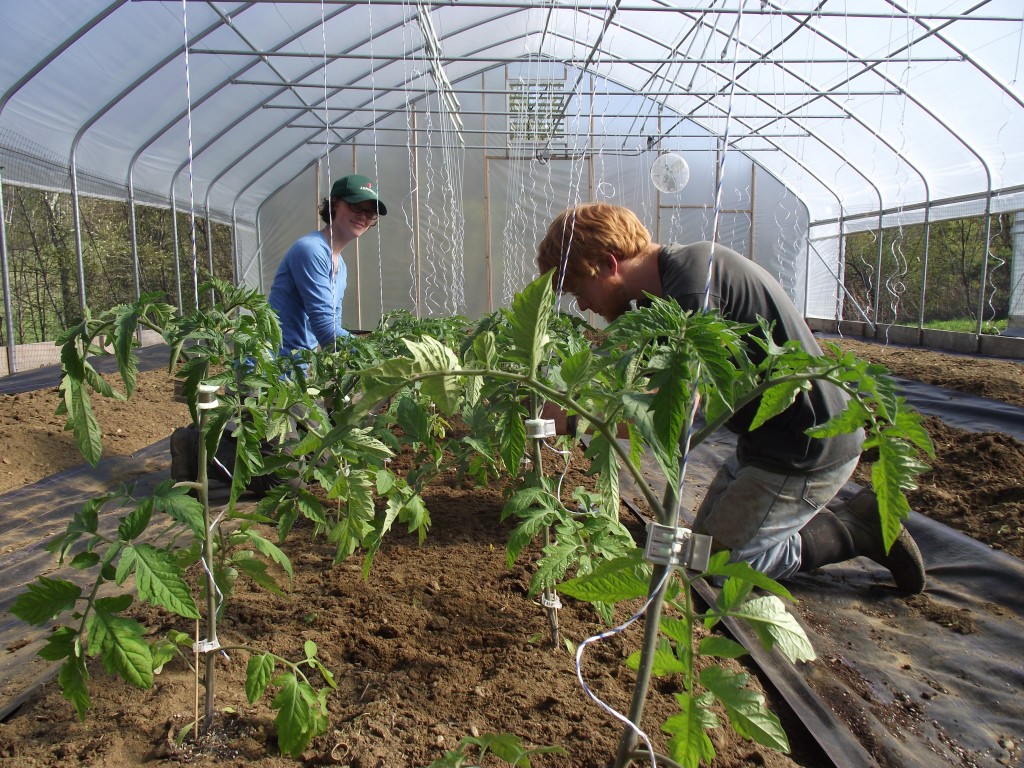 Crew Membership Low Down
Overview
In 2016 in the early spring we will be seeding, seeding, seeding! Soil management, moisture and germination management take precedent. We work from a seeding plan to reach our goals and fulfill future orders each week. Mid Spring is when the baby plants get to stretch their roots and be transplanted into their sales containers.  We liberate a huge number of plugs this time of year. Organizing the propagation house and nursery for future market shipments and retail sales is priority. Pest and disease scouting and beneficial insect releases help us maintain beautiful plants. Late Spring – we sell!  We allow customers to come to the farm and purchase plants each weekday from 9:30 to 5 pm. We also transport a full array of plants to the Skowhegan Farmers' Market each Saturday.
For a day-to-day picture, Andrew works in his home office as Editor of our magazine, Growing For Market. He is also an A+ Papa and wrangles children with me as needed. Ann runs the show in the nursery.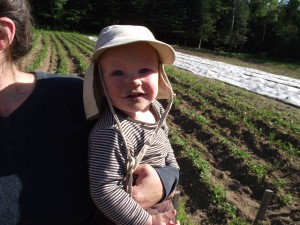 I work hard at communication, clear instruction and demonstration, and strive to provide valuable "teachable moments" and a fulfilling experience. The crew will mostly work together under my instruction, with occasional divide-and-concur tasks. You will occasionally work alone if I am called out. You'll definitely be around kids! This requires a little extra attention to your tools and work space so as not to end up with a 3-year-old raking her fingers through a flat of leek seedlings or hand seeders ending up in the toilet.
Weekly Plan and Observations: At the start of each week, Ann will lead a walk to look at the nursery and prop house and we will go over the big picture of what needs to be done, clarify work assignments and update the plan. We will then create a plan of action for the week.
Crew Membership Nitty Gritty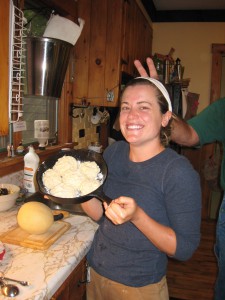 Daily Morning Meeting Time: The crew convenes every morning to clarify the day's program and make alterations if needed.  Work typically begins at 9am.
Orientation: During the first week Ann will conduct an orientation to go over safety policies, and the location and names of buildings and equipment. We will clarify times of leave, clarify rotating jobs (watering, seeding/transplant setup, labeling, etc.).
Meals: If your shift covers lunch, you are welcome to go into town to grab a bite or bring a lunch and eat in the farmhouse.  We can cook lunches together, too, on occasion. The main farmhouse is our family home.  It is also somewhat of a farm headquarters, so we will try to make boundaries clear so everyone has good communion and enough space.
In the event that a crew member is living in farm quarters, there are cooking facilities (stove, fridge, pots, pans, etc.) in both crew member quarters for breakfast and dinner on your own.
The Work Schedule
Monday – Friday: 9:00 AM until various end times following work flow of the season, start the morning with chores at 9am, a break for lunch of roughly one hour and continue tasks until a natural stopping point is reached and what needs to get done is done.
Saturday: 6:15 AM starts with packing and getting ready for market. The van pulls out for market at 7:30am. We get back from market between 2 and 2:30, unpack and clean up van and nursery.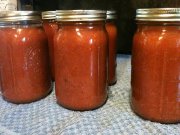 If living on the farm, you would be able to take advantage of all that's going on around us including our nationally acclaimed wilderness areas and lakes if you had a vehicle. We are in a very up-and-coming area of Maine with lots of young farmers with their own farm crews to hang with and a strong sense of community.  We love potlucks with our community of friends. Our land is bordered by Wesserunset Creek and we have a canoe which you can borrow. Folks have also taken our canoe to the mighty Kennebec River nearby. We have 72 acres of woods to explore and a new pond that may be a nice dip.
Ann is on the board of the Maine Grain Alliance, co-owner of The Pickup, a wholesale produce distribution and CSA business, a supervisor for the Soil and Water Conservation District, and involved in other community outreach programs. Thus, she is at meetings and preparing agendas, volunteering, etc. from time to time. Our community is nationally recognized for its work connecting local food and nutrition as well as setting models for low income access to local food. We are also supporters of Transition Town Skowhegan which is a group working toward resiliency for our community in the face of climate shift, waning fossil fuels and economic uncertainty. You are welcome to attend the T-town meetings and events if they interest you, which normally happen once a month at 7pm.
General Work: The crew membership is, at its core, a working-learning experience. Every Monday morning an outline of the week's goals is presented and reviewed, and specific tasks are assigned. All assignments are made with the needs of the farm and the specific stated needs of the crew members in mind.
Example Assignments:
Seeding/Transplanting

 Includes all aspects of seeding, germinating, heat management, water management, transplant techniques, scouting for issues, and pest and disease management if needed.  This included close record keeping.

Watering

 This is an art and we'll spend lots of time perfecting how to water thousands of seedlings of various species and varieties in various pot sizes and pot types.

Marketing

 crew members will learn how to assess what is ready to be marketed, keep close inventory, label pre-orders and sales plants, track health of plants and suitability for market and sales, and greeting and helping our customers. You will become a wealth of information for the folks who shop with us.
Compensation/Benefits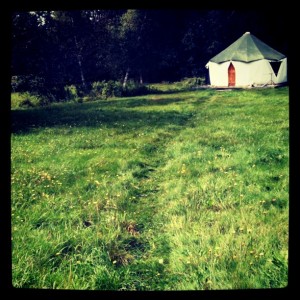 The crew position is from mid-April until mid-June. The hours vary as the season dictates. Pay is based on experience. If not living on the farm, you will receive an hourly wage. If living on the farm, you'll get a small stipend augmented by an immersion experience in a sustainably-minded farm and farm lifestyle/family life, room, lots of good board, access to our library, field trips to other farms and a weekly stipend.
Food: If living on the farm, staples and produce are provided as a benefit. We eat what we raise along with basic staples to accompany farm goods.  If you have a favorite food we don't normally purchase, you would buy that on your own.  We provide a list of which staples are provided.  We like to share meals and cooking duties from time to time and will play that by ear.  We are recovered vegetarians and eat our own farm raised meat or that of our farmer friends.  Keep in mind that spring is a lean time and our diet is based primarily on the greens and small roots coming out of our hoop houses.
Housing: live-in crew members live in either the Yome (yurt/geodesic dome structure) or in the Camper (RV with kitchen, sitting area and bed area). The Yome and Camper are first come, first serve with priorities for couples. The Yome and Camper are equipped with a stove, refrigerator, lights, carried-in water and cooking utensils. There is a nice bath house with humanure toilet, sink and hot shower for the crew members. These structures are unheated. Folks can stay in the upstairs "crew member wing" of Farmhouse during the month of April and again in November.  Please bring warm bedding like down comforter or sleeping bags and blankets for the chilly nights we are certain to have!
The Farmhouse: The farmhouse is our family's home and private space. Crew members have their quarters to retire to for their "me" time and we appreciate the space to do the same.
With that in mind, some seeds and supplies are kept in the house so you'll be in and out. Occasionally meetings for various organizations and other gatherings are held in the farmhouse. The second floor is cold weather crew member rooms and our guest room. During the cold months if crew members chose to occupy the upstairs, all are responsible for the care and appearance of the common areas of the Farmhouse and help clean, sweeping, vacuum, etc. If you are upstairs, please keep these areas clean and tidy and be respectful of others up there.
Internet: We have a wireless router for internet access that works in the house and reaches out to the yome and camper.
Laundry: live-in crew members may do their laundry in the farmhouse during agreed upon times. We use good old-fashioned wind and sun to dry our clothes – no dryer. There is also a laundry mat in Skowhegan just 4 miles down our road.
Time Off: We don't have an official time off policy. Naturally, we appreciate knowing about weddings, etc at the beginning of your stint so that we may plan for your absence. We are flexible throughout the spring if you need personal time here and there to run a quick errand, see the doctor, go to the bank, etc. Again, just let us know ahead of time so that we can arrange for this for you…and remind us as the date nears.  We rely on our crew and your commitment to helping our farm run. Sometimes we can arrange for you to have days off in exchange for working other days for example.
As is typical of young farmers, we never took time off – however, with a new family we are attempting to get off the farm a bit so that our children know there is a world out there and for staying well-rounded human beings. During the season, we try to get off the farm at least once and leave the crew members responsible. As former apprentices, when the farmers we were working for would leave, we found this self management time invaluable for learning how to set pace, assess tasks, prioritize and get them done without guidance. As a farmer, it means sanity. We have been super grateful to our crew members for allowing us this time off the farm.
Sick Time: When you're sick, please let us know and please don't work if it's contagious. If health circumstances arise that cause you to miss more than 7 days of work during the season due to illness, there will need to be some discussion as to whether the crew membership is the right situation for you at this time. You do not need to make up work for sick days.
Personnel & General Policies:
Safety Policies: We will review safety policies during the first week of orientation. All crew members are required to follow safety policies at all times. Failure to do so may result in immediate dismissal.
Drugs and Alcohol: Illegal drugs are not permitted on the farm property at any time. Alcohol is permitted in moderation. It is unacceptable to work while under the influence of alcohol or drugs (well, an occasional beer if we're working late).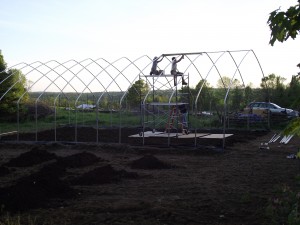 Visitors: For live-in crew, visitors are welcome for short term stays. Family and friends are expected to plug in with the farm crew if staying on the farm, following our normal schedule, and are welcome to join us at any shared meals. Visits longer than a week are subject to the wishes of other crew members and the farm family.
Pets: crew members must leave their pets at home. Possible exceptions may be made, depending.
Customer Interactions: One Drop Farm is a business and we depend on our customers for our livelihood. All crew members must present well and be professional, polite, and helpful to all people who come to the farm.  Crew members are often the first face of the farm folks see and this interaction can form the basis of their opinion of our farm.
General Demeanor: It is expected that all crew members be prompt, dressed appropriately for work, and professional in their attitude at work. We expect you to come with a good work ethic, we do not plan on having to teach this.
Integrity of a Farmer
If it's empty…fill it.
If it breaks…mend it.
If it's left open…close it.
If it fell…pick it up.
If it's left out…put it away.
If it's dry…water it.
If it's dirty…clean it.
Don't just walk on by…leave it better than you found it and you will be a better person for it.
Tools and Work Clothes: crew members will receive a list of tools and clothes that you MUST come to the farm with. The farm provides daily hand tools. They must be returned to their rightful place at the end of the day and potting shed swept up.
We aim to have fun and take pride in what we do.
Love and dirt,
The Farmers, Ann and Andrew